This list of the top 100K high traffic WordPress powered sites has been compiled as part of our analysis of the Alexa Top 1 million ranked sites.
Using a similar methodology as we did for the most popular WordPress themes analysis, this list has been compiled by looking for the presence of /wp-includes/ in the source HTML of every site in the Alexa 1 Million.
Web Servers of high traffic WordPress powered sites
The Web Server on which the WordPress installation is hosted has been discovered by reading the server HTTP Header (using curl). Results of the web server analysis were simplified so rather than looking at web server versions we have focused on the server technology.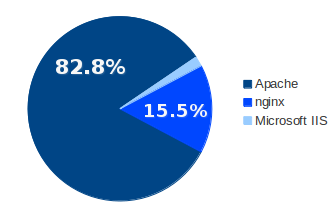 As you would expect when looking at WordPress powered sites, not many are running on Microsoft based IIS servers, Apache has the largest share at 82.8% of installations while nginx is growing in popularity with 15.5% of the sampled sites.
Top 20 Hosting Providers of top WordPress installations
Hosting has been determined by IP address lookup of the site against the MaxMind organisation database to find the IP netblock owner. The following table shows the top 20 hosting providers of the 100'000 most popular WordPress sites.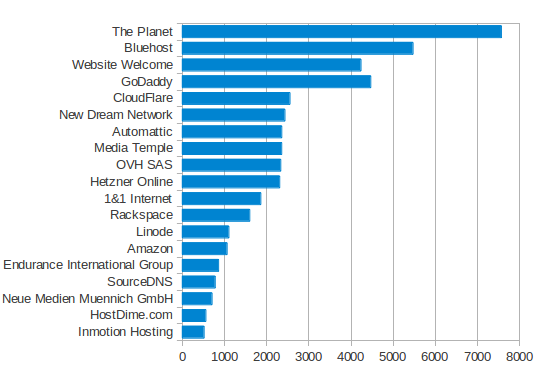 Here is the Top 20 WordPress sites summarised. For the full list in .csv format see the link at the bottom of this page.
Some interesting results here, the large number of nginx sites in the top 20 is very different to the overall 15% when looking at the full 100K top wordpress sites. Indicating a significant trend towards nginx on more high traffic web sites.
Format of the .csv file is the wordpress rank|alexa rank|site|theme|web host|web server.
Have you seen our new WordPress
Monitoring Service
.
Simple, Uptime and Security Alerts.
Find out More