Test SharePoint Security with this easy to use security vulnerability scan. Discover vulnerabilities, web server details and configuration errors.
SharePoint is a popular content management system built by Microsoft. Often used by corporations & enterprises it is a popular target for attackers. This SharePoint security scanner will test your Internet facing installation for security issues, configuration errors and poor reputation links so you can get to work mitigating the vulnerabilities.
Launch Security Scan
Perform a Free SharePoint Security Scan with a low impact test.
Check any Sharepoint based site and get a high level overview of the sites security posture. Once you see how easy it is grab a membership and test Sharepoint with the dedicated vulnerability scanning tools OpenVAS, Nmap and more.
Items checked in the FREE scan
Attempt to detect version of Sharepoint
Discovery third party modules & templates
List client side JS in page
Threat Intel & Blocklist Checks
Login for Advanced Security Scanning Options
Aggressive vulnerability scanning with professional tools.
MEMBERSHIP BENEFITS
Nothing to install. Hosted tools for easy access.
Identify the attack surface with Nmap Port Scanner
Test Sharepoint with OpenVAS and Nikto Scanners
Access to 28 Vulnerability Scanners and OSINT Tools
Trusted Open Source Tools
About Sharepoint Security Testing
Sharepoint Security Testing is an essential part of managing any Sharepoint based site. Sharepoint is a content management system used by large enterprises, making it a popular target for attackers. It can only takes a simple configuration error to expose sensitive company data. Recent remote code execution vulnerabilities have also highlighted how essential ongoing security patching and management is to any system.
We have a range of hosted tools for testing Sharepoint and other web platforms in a variety of use cases.
The freely available SharePoint check performs analysis from a simple page grab. Through examination of the HTML source code, javascript and a few other open publicly accessible pages it is possible to gain immediate insights into the state of security on the target site. This is without sending any aggressive security scanning, using only passive analysis methods.
Our second form of scanning involves using active security testing tools (OpenVAS, Nikto, Nmap are examples) that send hundreds of requests against the target site to find security issues (vulnerabilities) that are not immediately apparent from passive analysis.
Comprehensive Security Testing
Get informed with detailed technical reporting
Assess the Security Posture of Any Web Site
Test underlying server and network accesses
Attack Surface Analysis with Bulk Testing
Intelligence for Red Teams, Blue Teams and Web Site Ops
Full Access to 28 Vulnerability Scanners & Tools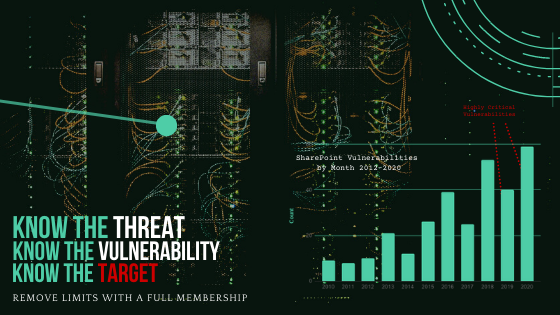 Comparing the Options
Members get access to the full suite of security tools. It's a security testing go bag for security professionals and system administrators.
Free Sharepoint Security Check
SharePoint Version Check
Threat Intelligence (Blacklist) Checks
Sites Externally linked from main page (threat intel check of host)
Javascript linked (including host blacklist check)
Server, Hosting and Geo-location Information
Need more than the free option can provide?
Check out the additional benefits that come with a Hacker Target Membership.
Additional Benefits (with Membership)
Use Nmap to check firewalls & open services for configuration errors.
Use OpenVAS to test Sharepoint & Web Server vulnerabilities.
Use Nikto to test website scripts and web framework
Passively survey sites in bulk for web technologies and other details
Monitor server for port and vulnerability changes (scheduled Nmap & OpenVAS)
With membership you have full access to all security testing tools including port scanner, web server testing and system vulnerability scanner.
SharePoint Vulnerabilities
Over the past 18 months there have been a number of critical security vulnerabilities identified in SharePoint. Following publication, high profile organisations have been compromised by both non-state and state actors (targeted state backed attackers).
Vulnerabilities are regularly discovered and patched (often monthly), however these recent vulnerabilities were remote code execution (RCE) - the worst type of vulnerability as it usually leads to complete server take over.
The Canadian Cyber Centre released a report highlighting a campaign targeting several versions of Microsoft SharePoint Server and installing a web shell (backdoor) known as China Chopper. The following versions of Microsoft SharePoint are known to be affected:
Microsoft SharePoint Enterprise Server 2016
Microsoft SharePoint Foundation 2013 SP1
Microsoft SharePoint Server 2010 SP2
Microsoft SharePoint Server 2019
The vulnerability CVE-2019-0604 was being used to deploy the backdoor. Microsoft released security updates for this vulnerability in February and March 2019.
In January 2020, the same SharePoint vulnerability continued to be used to attack two US municipalities. With a compromise of the SharePoint server leading to full network compromise of the organisation's active directory.
Furthermore in July 2020, details were released for another Remote Code Execution vulnerability, along with privilege escalation (pre-auth) and a handful of other vulnerabilities in SharePoint and related components such as Microsoft .NET Framework.
Now would be a good time to check your Windows Updates and patching processes are all operating correctly.
Simple Check List for SharePoint Security
SharePoint being backed by Microsoft is a robust product. However, there are a number of key items to be aware of when it comes to staying secure:
1. Apply Microsoft Updates: Patching is build into the automated Windows Update process. Ensure this is performed monthly to always get the latest security updates.
2. Regularly Audit Content: Always check that permissions are adequate across the site. Mistakes in assignment of permissions can lead to company data being leaked from simple mistakes.
3. Test Server for Vulnerabilities: Perform routine server vulnerability scanning to identify security issues that might otherwise be missed.
One of the things we love about open source security solutions is that you can not only run the tool and get results; but also dig into the code and understand what is being tested and why it is being tested. Knowledge is the key to a strong cyber security posture.
OpenVAS (now known as GVM) is a powerful framework developed by Greenbone Networks. As it is open source you are free to download, install and run on your own systems and Internal network. Here at hackertarget.com we simply offer a hosted version to save you time - so that you can get on doing what you do.
Automated Security Vulnerability Scans.
Discover. Investigate. Learn.
Website Recon?
Fingerprint CMS
Technologies in Bulk
Remove limits with a full membership
More info available